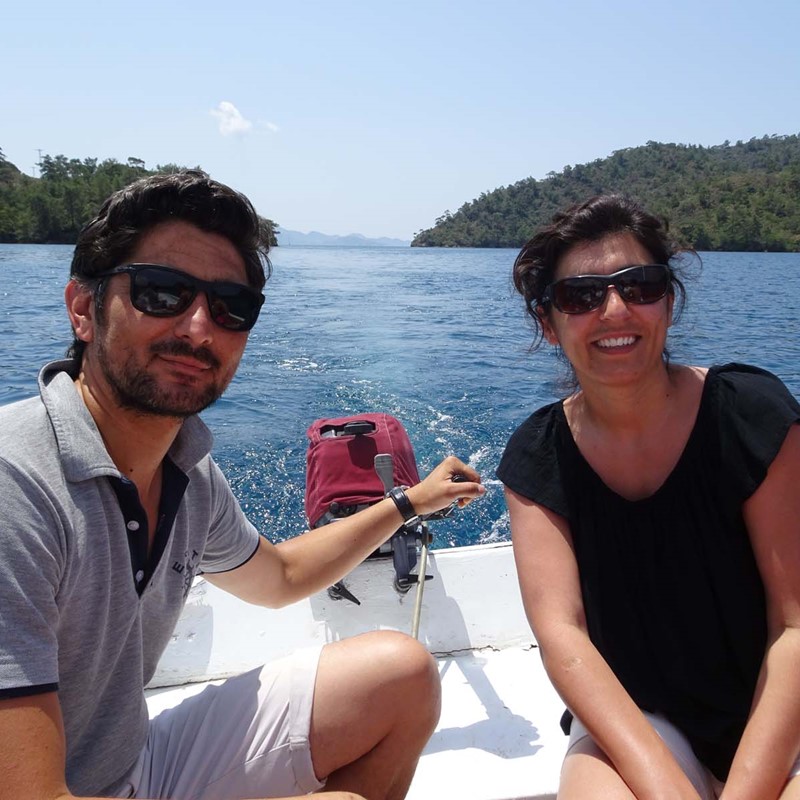 Sema and Osman
Osman has been connected to the sea since his birth. His father, uncle, grandfather ... all had a boat. He already started working on sailing boats from his 15 years during the school holidays. After he got his Master's degree, he started working on different yachts and sailing boats to gain experience. In 2011 he bought his first boat and started working in the family business Best Blue Voyage. He knows the Mediterranean area with his thumb and has a lot of sailing experience. Osman has Greek roots and speaks Turkish and English.
Sema has been shuttling back and forth between Turkey and Belgium for the last four years to arrange all sailing trips down to the last detail. Sema works in education, has studied history, psychology and philosophy. She is also chairwoman of an environmental brand group and considers sustainability, healthy eating, and rest very important. She is always looking for places where it is beautiful and quiet and she can become one with nature. The silence, in connection with nature makes her happy. Sema speaks Dutch and Turkish.
What you might want to know
Frequently Asked Questions
Next things are included in our cruises
7 nights in a single or double cabin
7 x extensive breakfast
Return transfer airport - departure port in Turkey
The port fees
Daily extensive lunch and dinner
Daily tea time with tea / coffee and cookies / cake
Towels
Not included:
Drinks
Personal expenses
Excursions
Tips and unlisted services
Of course! Pass on your wishes and we offer vegetarian alternatives.
Of course. Provided you pay a small amount you have access to the wifi.
Make sure you have a Belgian passport or national identity card. These must be valid for at least another 6 months upon arrival in Turkey.
You will also need a visa. The so-called E-visa must be purchased before departure.
No worries: if desired, we will arrange this for you.
Yes, you can book excursions via the internet or mail in advance. The excursions are carried out by local guides and one crew through the creations, making the tour guide usually English and / or Turkish speaking ..
To make sure you can fully enjoy the trip, we place expenses such as drinks and excursions on your account. At the end of the cruise you get the bill so you can check it. Afterwards we arrange the payment cash in euros in a simple way.
Tipping is a very normal use during a cruise. The tips are not included in the fare. An average tip is 5 euro per person, per day. The last day you pay the tip when paying for your expenses.
After the travel agreement you must pay a deposit of 35% of the total travel sum plus any booked flights, Turkish visa and insurance policies. If you book within 8 weeks before departure, you must fully pay the entire travel sum at the time of booking.
Most ships are so stable and the sea is so calm that you often do not even notice that you are sailing.
Come visit us
You can found us at the following holiday fairs. Come and visit us at our booth and learn all about our fantastic cruises.